Life path 5 - Love to explore the world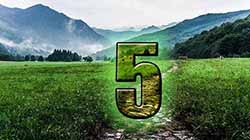 People with life path 5 are energetic, resourceful, adventurous, impatient and love to explore different colours of life. You welcome very change in your life and take them as an opportunity. These people are born progressive with liberal and resourceful way of lifestyle also they are daring, non-conventional, abrupt, unpredictable, active, opportunistic, persuasive, pragmatic and are attracted by string physical senses. Any career that calls for energizing power is well-suited for you. Life paths 5's are also very clever, restless and very soon become jaded with an activity. These people are very inspiring and are good companions. You are capable of doing almost everything because of your versatile nature. Life path 5 are capable of accomplish many things. The person is multi-talented and you can win the world with your good and positive approach for things. There are abundant opportunities for such people with lots of adventure, variety and stands out of ordinary people. People with life path 5 are very compassionate. Your personality is very inspiring and is capable of attracting people from all walks of life.
Life path 5 has childlike nature and very effectively flits from one thing to the other. These people value freedom above all. You are a very curious adventurer and keeps notice of the changes around you. Number 5 feel elated to meet new people, try new things and live life in present. You are just opposite of word conservative as you love to take challenges and do not like daily schedules. You are very persuasive and motivate people easily. Since you keep on looking for a new adventure, your life may lack directionality. You are frustrated if you are struck in the same daily routine. If you are not on the constant go, you may feel discontented and impatient. Adventure and curiosity gives you an extra driving force and can easily distract you.